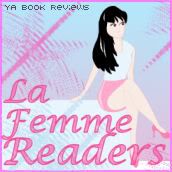 "La Femme Readers is a Young Adult book review blog. It consists of author interviews, fun giveaways and weekly up to date news on all the future YA releases. Reading is a gift, so I am happy to be part of the bookworm community."
"My life revolves around reading. Without writers, I would just be a typical girl with an overactive imagination. Because of them, I call myself a bookworm. So thank you writers of the world for blessing me with this gift." - Eleni
Don't forget to leave a comment on La Femme Readers
. For every mention of the post, you can leave a separate comment and be entered to win a Kindle. And everyone who purchases the cookbook during the launch will get a free bonus recipe book. For more information click
here
.