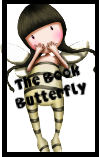 Kim at The Book Butterfly is talking about The 2011 Book Blogger's Cookbook today over on her blog. Kim has a fabulous site (don't you just love the cute little book butterfly?) with reviews and author interviews and great giveaways.
"The Book Butterfly is a book blog for those who love and appreciate Young Adult literature, particularly those books with paranormal appeal. Whether you're a young adult or just young at heart, stop by to learn more about your favorite books, the authors behind the story and new books on the horizon."
Don't forget to leave a comment on The Book Butterfly
. For every mention of the post, you can leave a separate comment and be entered to win a Kindle. And everyone who purchases the cookbook during the launch will get a free bonus recipe book. For more information click
here
.