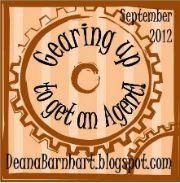 Welcome to all of my new writerly friends! My name is Christy Dorrity. I am a stay at home mom to five great kids. I am an Irish dancer and an author. My two Book Blogger's Cookbooks are available on Amazon, and I just recently finished my first novel, a YA mythic fantasy based on celtic mythology.
Here on my blog I post reviews of the books I read every year, about 20-30. Along with most books, I post a companion recipe, all of which will end up rolled together in next year's cookbook!
I live in the mountains with my best friend for a husband, my sweet kids, and a good dog. What more could I possibly want? It's nice to meet you. Stay awhile.
For more info about GUTGAA click
here.